Westminster.
Just a single word can bring chills to the dog lover's spine.
There are hundreds, if not thousands, of unbenched dog shows held every year all around the world.
There are a handful of benched shows that are shown on television.
However, Westminster isn't just a show, it's the show.
It's the biggest dog show out there, the most popular dog show in the world, and millions of people crowd in front of the TV with their beloved dogs to watch champion pooches strut their stuff on a carpet of green.
Thousands of people watch from the stands, and every American Kennel Club recognized breed competes in the show.
Westminster is the Super Bowl of dog shows, and qualifying for such a show must be spectacular.
On Monday and Tuesday night, the show took place.
The first night was the group judging of the Hound, Toy, Non-Sporting, and Herding group, while Tuesday you could watch the judging of the Sporting, Working, and Terrier group, along with Best in Show.
Before we get to results, these are the seven new breeds that made their first show appearance this year. They were just recognized in 2015!
Cirneco Dell'Etna (Hound)
Lagotto Romagnolo (Sporting)
Miniature American Shepherd (Herding)
Spanish Water Dog (Herding)
On Saturday, I made some predictions on who I thought would win each group, and after I announce the winner of each group, I'll reveal if my predictions were accurate or not.
Hound Group
1st. CH Belisarius Jp My Sassy Girl "Lucy" (Borzoi)
2nd. GCH Sporting Fields Shameless "Brazen" (Whippet)
3rd. GCH Baghdad Eleganza Extravaganza "Pooh" (Saluki)
4th. GCH Torquay Midnight Victory "Victoria" (15" Beagle)
Lucy won the Hound group with handler Shota Hirai!


Lucy is a Borzoi, sometimes called the Russian Wolfhound.
Was my prediction right?
Nope!
I thought Brazen the Whippet would win her group, but she won second, so I was still pretty close!
Being a hound lover, I wanted either the Bloodhound or the smooth Dachshund to win.
I personally know the smooth Dachshund (his name is Pilot) so I was cheering him on! He is from the same breeder as Christmas. Pilot and Chris have a love/hate relationship! Pilot is a very regal pup, but it seems he decided to goof it up on the green carpet!
I was so happy to see Pilot on TV!
Toy Group
1. GCH Wenrick's Don't Stop Believing "Panda" (Shih Tzu)
2. CH Pequest General Tso "The General" (Pekingese)
3. GCH Hitimes What The Inferno "Danny" (Pomeranian)
4. GCH Infiniti Holding Kryptonite "Cow" (Italian Greyhound)
Panda won his group with handler Kathy Garcia!
Panda has perfect coloration and his name suits him perfectly!
Was my prediction accurate this time?
Nope!
I thought Danny the Pomeranian was going to win the group! He placed third, so I'm still pretty close!
Non-Sporting group
1. GCH Imperious Hamitup Southern Bell "Annabelle" (Bulldog)
2. GCH Merry Go Round Coach Master "Flash" (Dalmatian)
3. CH Afterglow Maverick Sabre "Ricky" (Standard Poodle)
4. GCH Sabe's Simply Invincible "Vinny" (Boston Terrier)
Annabelle won her group with breeder/owner/handler Jean Hetherington!
Annabelle lives in Georgia, just like me!
Was my prediction right this time?
Nope!
I thought a Chow Chow named Pilot was going to attend, but a different Chow did. My prediction was that specifically Pilot the Chow would win, so if he was there, maybe he would!
Herding Group
1. GCH Lockenhaus' Rumor Has It V Kenlyn "Rumor" (German Shepherd Dog)
2. GCH Wind Spirit Rod's Amazing Grace "Grace" (Australian Shepherd)
3. GCH Majestic Elite Clever Endeavor PT "Slick" (Border Collie)
4. CH Cordmaker's Mister Blue Sky "Preston" (Puli)
Rumor, the current top show dog in the country, won her group with breeder/owner/handler Kent Boyles!
Rumor has it that Rumor will take the Best in Show title!
Did I predict this win?
Yes, I did!
Finally, I got one right!
Sporting Group
1. GCH Vjk-Myst Garbonita's California Journey "CJ" (German Shorthaired Pointer)
2. GCH Clussexx Man Of Steel "Angus" (Clumber Spaniel)
3. GCH Shalimar's The Animator "Cyrus" (Labrador Retriever)
4. GCH Rainbow Splash's Ruggedly Handsome "Beckett" (Brittany)
CJ won his group with breeder/owner/handler Valerie Nunes-Atkinson!
CJ is a regal GSP! That stands for German Shorthaired Pointer.
Was my prediction right this time?
Nope!
My prediction was that Beckett the Brittany would win.

Beckett placed fourth in his group, so at least I'm sort of right!
Working Group
1. GCH Pebbles' Run Play It Again Ham "Bogey" (Samoyed)
2. GCH Mephisto's Speak Of The Devil "Devlin" (Boxer)
3. GCH Gamegards I'Ll Have Another V Braeside TT RN "Indy" (Rottweiler)
4. GCH Derby's Toast With Gusto "Gus" (Greater Swiss Mountain Dog)
Bogey won his group with owner/handler Andrew Green!
Bogey is a smiling Sammy!
So, was my prediction right?
Nope!
I thought Devlin, the Boxer who placed second, would win her group.
At least I was still pretty close!
Terrier Group
1. GCH Cragsmoor Good Time Charlie "Charlie" (Skye Terrier)
2. CH Meadowlake Dark Side Of The Moon "Leonard" (Border Terrier)
3. GCH Hampton Court's Monte Cristo "Cristo" (Wire Fox Terrier)
4. CH Snowtaires Next Generation "Jenny" (Lakeland Terrier)
Charlie won his group with handler Larry Cornelius!
Charlie has always been tough competition.
Was my prediction correct this time?
You're darn right it is!
Charlie won Reserve Best in Show at Westminster last year, so he set the bar pretty high!
Reserve Best in Show
Before Best in Show, the BIS judge (this year it was Richard Meen) chooses Reserve Best in Show, which is second place. When all the seven group winners first entered the ring for Best in Show, the lights were all off and the only light was a spotlight that shone over a handler gaiting his or her dog. I can't imagine how amazing it must feel to be in that spotlight! It was amazing to watch!
Meen seemed to take a liking to Charlie, the Skye Terrier after the lights turned back on and the dogs were stacked by their handlers. I assumed he was going to win Reserve Best in Show as he did the year before. Meen went over to a table and marked in his book who would win RBIS (Reserve Best in Show) and BIS.He pointed to the Borzoi for RBIS and everyone went wild!
Nice job, Lucy!
Lucy did an amazing job in the ring!
Best in Show
The whole show comes down to this moment. The seven group winners were chosen long ago, and because all seven dogs are the top in their groups, Meen could honestly close his eyes and point to a random dog, and whoever he pointed to would be a worthy winner. However there can only be one, one that takes home the coveted title of Best in Show at the most prestigious dog show in the country.
"And Best in Show tonight goes to the German Shorthaired Pointer!" Meen declares.
Cheering fills the air as Valerie Nunes-Atkinson is filled with surprise. The other handlers congratulate her, and so does Meen. She thanks them and gets down on her knees to give CJ much deserved attention. It was an amazing moment, especially for Nunes-Atkinson. She bred this amazing dog herself and knew that from day one, he would be something special.
"He just has the 'it' factor," says Nunes-Atkinson.
She also started as a Junior handler, and she shares her home with six dogs in total, along with a handful of cats, but CJ is something special. She says that when he was six weeks old, he walked into their living room and something about the way CJ walked told Valerie that this dog would be special.
I posted about Nunes-Atkinson and CJ in December, when I went over the results of the AKC Eukanuba National Championship. She was the top breeder/owner/handler at the show, and when it was announced, CJ took the huge ribbon in his mouth and took a victory lap with Valerie as many amused fans laughed!
Congratulations, CJ!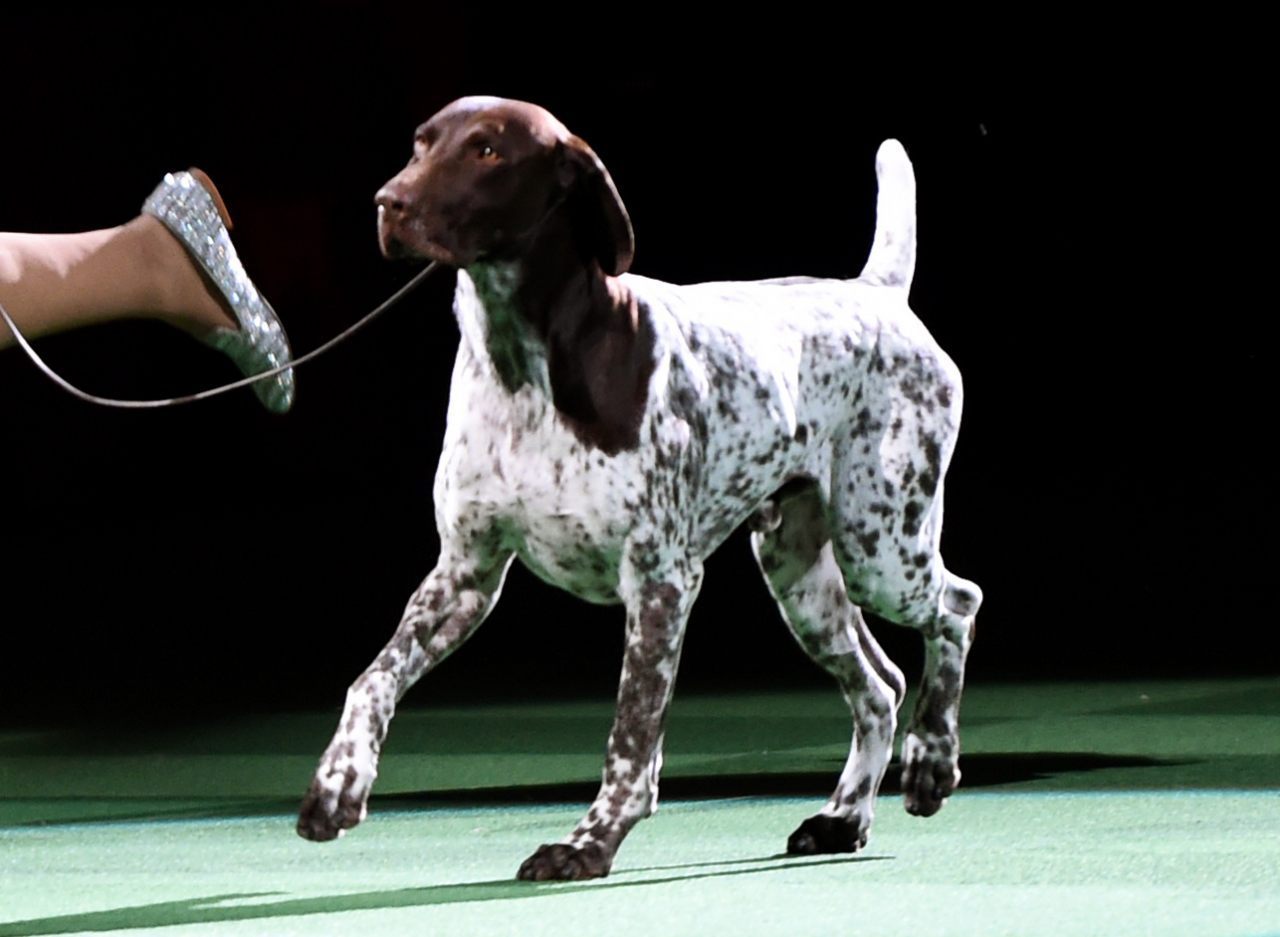 This is CJ entering the ring for Best in Show.
Nunes-Atkinson was obviously very proud of her dog!
Being a dog, CJ had no idea that he won at the biggest dog show in the world...he just knows he's a good boy!
CJ is a goofball!
When you're a handler, Westminster is your dream, and it's the reason you work so hard to become the best handler and dog team you can be. To win something like this must be spectacular, and I can say this as a Junior handler myself.
Being such a top competitor, I thought Rumor was going to win. As Meen was saying "German Shorthaired Pointer" while announcing the winner, I only heard a portion of the sentence and I cheered "I knew you could do it, Rumor!" But because I couldn't hear Meen over my cheering, I thought he said German Shepherd! I glanced at the TV to see Valerie and CJ overwhelmed with happiness. Oh, well, Rumor, at least you made it this far! This was actually Rumor's final show...what a way to top off her show career!
Congratulations to CJ for winning Best in Show, and to Valerie Nunes-Atkinson for breeding and raising such a nice dog. Also, congrats to the other six group winners, and to all the handlers and dogs who were lucky enough to strut the green carpet in the first place. Also congrats to David Frei for narrating the show for his twenty seventh and final year!
I can't wait for next year's show, and I love watching Westminster every year, but one year I hope that I'll be on the green carpet myself. That's always been a dream of mine, and I know Christmas would love it, too. We love to travel together for dog shows!
I hope you enjoyed this post and the Westminster dog show itself, and I'm sure you'll watch handlers and dogs walk the green carpet for many more years. You never know...
You might see me there one day!